3 Days To Cabo

All Photographs, Writings and Other Content Copyright
© Tom C. Marshall and San Diego Beachlife Magazine®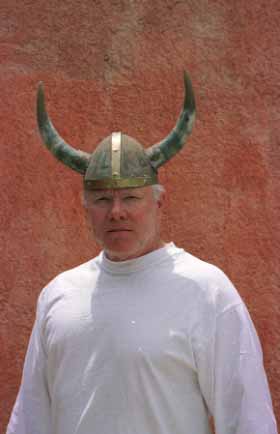 Adventure is where you see it. Fun is where you find it.
" The Journey IS the Destination! "

Two Friends, Two Trucks, One Odyssey.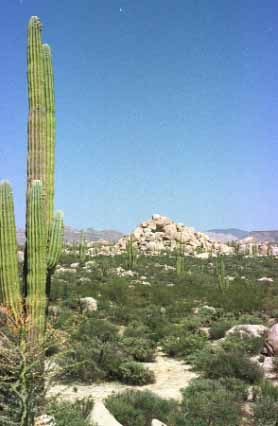 Sure we have landscape like this in Southern California, but we don't have as much livestock running loose on the roads. When we first started out I expected to see one or two horses/cows running loose, but here the exception (and I only saw it once) was livestock inside a fenced in area. We also don't have the same feeling of solitude even in our deserts. Try driving from San Diego to Yuma on a Wednesday, even here cars and trucks are all around you. But once you pass Ensanada (about 70-miles below the US/Mexican border) you see fewer and fewer people. The road surface is good all the way down to the tip of Baja but carry your own spare parts... Fan belts etc. And don't forget water... This is the desert and you need to drink large amounts of water.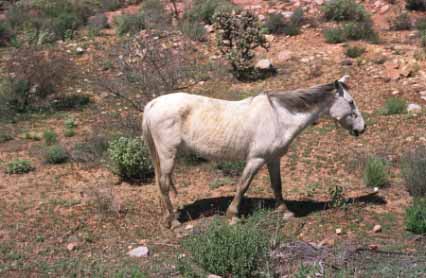 Horses and Cattle are running free range are commonplace and may be feral.
A kick from a stallion protecting his harem or a charge from a young bull guarding his heard can do serious damage. Give these animals the same respect you would the bears at a National Park in the US.
At the end of a long first day of driving, we pulled into "Guerrero Negro" near the whale watching area of Scammons Lagoon. The Motel Malarrimo (as you drive into town) was clean with a great restaurant. (Click on the Motel photo below for hyperlink to their website).
On a sign in the lobby of the Motel was the message "Our English is as good (limited) as your Spanish - Please understand that Mistakes may occur."
The Ugly American Just Got A Beauty Tip
(I refer to myself as the "Ugly American" only because the title of "Ugliest American" is in dispute among Datuk Roberts, Rat Miller and Myself).
Guess what else? They don't read minds any better than you or I do... If you can't say it in Spanish don't expect to get it. Get a Spanish Phrase Book before you go. Making up "Spanish" doesn't work to good either. Things like "How Mucho is a Taco" is not "Real Spanish". Remember.... Real Spanish works.... Made up as you go Spanish does not (most of the time).
OK... It's nice to compare some of the advances we have in the US and think that Mexico is thirty or forty years behind us, but when it comes to CLEAN RESTROOMS at Gas Stations, Mexico is light-years ahead of California. If you fill you gas tank when you reach the half empty mark you will find fuel is not a problem down here.
All of Baja California's water comes from rain in the Mountains that run the length of the peninsula, flash floods can happen all year round but are more common in winter months. Be very careful when driving through a flooded area. Three young ladies were driving through this very wash and told me of the time when they found the area flooded with fast moving water. A young man was standing in the middle of the road with a look of horror on his face, "My best friend just tried to drive across and was washed away!" .... His friends body was found two weeks later where the usually dry river meets the Pacific Ocean. The car was never found.
Parts of Baja California have "arroyos" (rivers that have water a few times of the year, but are usually bone dry) everywhere, building a bridge over these areas is not economically feasible (this is more common than you think here in the United States). So expect to see roadways like the one in the photo above.
Much of "Baja" the peninsula that parallels mainland Mexico and just south of the California of Los Angeles, San Francisco and San Diego is bone dry desert. There is very little rain most of the year but there are a few spots. If you leave Cairo, Egypt and drive east towards the Suez Canal you cross an ultra dry area that almost killed "T.E. Lawrence of Arabia". After a few hours you find an oasis with a large expanse of fresh water. This is the lush green Ishmalaiah, Egypt. Driving east from Gurerreo Negro on the Pacific side towards Mulege on the Sea of Cortez side you will find the "Oasis" that is San Ignacio half way between. The contrast from waterless desert to cool shaded very lush green is startling. The lake looks as though God kissed the Earth and left behind life.
If you just look there is lots of wildlife, like this Osprey with it's fish dinner.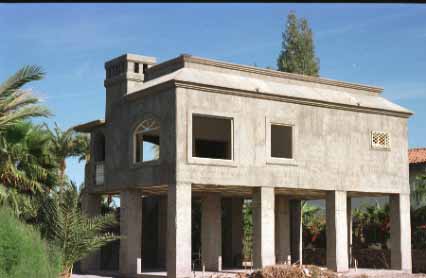 Because wood is very expensive in Baja virtually all of the construction is of steel re-enforced concrete. This house has a large curving stair-case leading to the second floor. Very attractive, very practical housing. By the way, termites don't seem to like it very much though.
Calm water and hundreds of beautiful islands are in this area.
Morning Coffee on board the 42' Trimaran we stayed on our second night on the road. The boat belongs to a former U.S. Navy First Class Deep Sea Diver. He now runs dive tours to some of the local Islands.
The point of rock on the right in the center of the photo above is known as the "Red Gorilla". The night before I sat watching the sunset over the "Red Gorilla". Near the back of the boat a young woman appeared, she was the great-great granddaughter of Nicolai Andreevich Rimsky-Korsakov the Russian Composer. She stood on the stern with a short Tahitian style "Lava-Lava" wrapped low on her hips, her long blond hair covered her breast as she combed it. High in the rigging above was a speaker system that began to play "Sheherazade". This was a woman of extraordinary beauty and presence and it became obvious to me that the sun was putting on it's evening show just for her. She combed her hair and let her wide blue eyes gaze at the "Red Gorilla", and when she was ready and the symphony over, she allowed the Sun to set.
Nessun Dorma (no one sleeps)
The water of the yacht harbor at Porto Escondido was about the size of eight football fields and was perfectly smooth. The boat had no movement as it lay at anchor, perfectly still. My berth was in one of the outrigger hulls and with the hatch open I could look up at the clear sky and see the stars that were so plentiful that the pulsing light of one gently touched the pulsing light of another. In other parts of the world, especially large urban areas the sky seems almost dead by comparison, as if Edgar Allen Poe or Steven King were writing of a dying universe. But here with dry air and no city lights, the sky breathed light, in and out, and changed the rhythm of my own breath until sleep must have at long last taken me.
Gently I noticed the smell of fresh coffee and heard the soft sound of "Nessun Dorma" being sung by Luciano Pavarotti and then by Sarah Brightman. I lay still not wanting to open my eyes, not ready for another day's desert drive, not ready to give up the chance to see the woman from sunset. Soft bare footsteps hinted an approach. I looked up through the hatch and the morning sun became a halo around the face of the young woman. I turned to my left side and watched as she came down the steps. She folded my hands around the warm coffee cup, kissed me lightly on the forehead and whispered "good morning". She then backed away out of my reach and climbed back to the deck. I rolled out of bed and followed but heard a soft ripple of water as I set the coffee outside the hatch to climb up. When I reached the deck she was moving with a slow gentle overhand stroke towards the open sea. The calm water seemed to part to give way to her and then fold back around, leaving no wake…
Maaarshall, Charlie's voice bellowed, exaggerating and drawing out the "A's" as a Navy Chief we had both worked for used to address me when he wanted to assign me a particularly bad task and rub my nose in it while doing so. … Aren't you ready to leave yet?? I drank more coffee than I really needed, knowing that it had been prepared by the young woman, I needed the association. "Maaarshall, Let's get out of here before the desert gets too hot. The drive from here to La Paz can be brutal." We got as far as "Constitution" before Charlie's van broke down again.....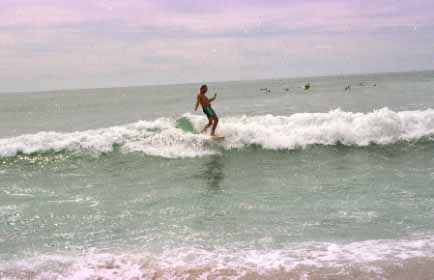 And when you finally reach Cabo the water is warm and the surf is good. Here "Charlie Gets Gnarly" on some nice waves at a private beach.
Surfing, Swimming, Diving, Fishing and Sunbathing are the daytime pursuits. In the evening many of the local American and Canadian expatriates attended a great club called "The Havana Bar"... I had been warned by a friend to be careful taking photos of people "a lot of people are down here so know one can find them, so respect their privacy"... "The Havana Bar" made me think of a Key West club in pre-Castro days. Smugglers, Gun-Runners, one time desperate people seeking a more relaxed life. The club had a great Latin jazz band, the sax player was a nuclear physicist who went "Bamboo" as we used to say in Vietnam. This was a very fun crowd, most of the women were interested in meeting me, which was great, found out later someone had told them all I was extremely rich.
I was relaxing at the bar between songs when four young attractive Mexican women entered the room. They didn't just enter the room, they made an entrance led by the tallest of the four. She had gold colored eyes, the color of a wolf's. She had shoulder length brown hair that covered the top straps of her white halter top that crossed the threshold of the door well before the rest of her body. I found my eyes lower to the blue jean hip-huggers slung low on her hips the way a gun fighter wore a gun belt in a 1950's Western Movie. These were the hips of woman of purpose. Staring at her as I did was like looking down the barrel of an M-16 Assault Rifle, small bore with an incredible amount of power behind it. Her hips swayed side to side like a rifle finding it's target. She was not just the leader of her group of four, she was a strong "Alpha-Female". An Alpha She-Wolf. This was a woman of power, a power not to be denied, a Huntress. Her eyes locked on me and with all her sexual power crossed the room and headed straight for me. If I could survive the night and her I would be forever enriched...... But remember "The Journey IS the Destination".... I love The Havana Bar, I think you will too. If you are lucky enough to get to Cabo, go to "The Havana Bar" and look for a tall blond haired blue eyed gentleman leaning against the bar with a permanent grin, a grin not of survival but of success... That will be me.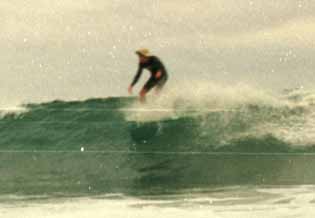 "Club Ed" in a reverse fin take-off... Club Ed of Santa Cruz, California
Email Club Ed: ed1@cruzio.com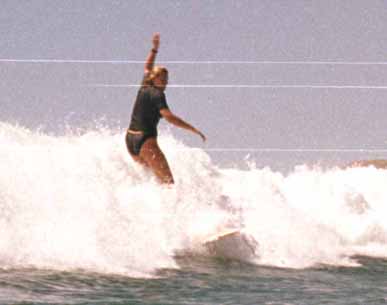 Mauricio Balderrama Garcia of "The Cabo Surf Hotel
Email Maruricio: mbalder@Prodigy.net.mx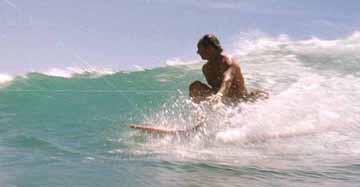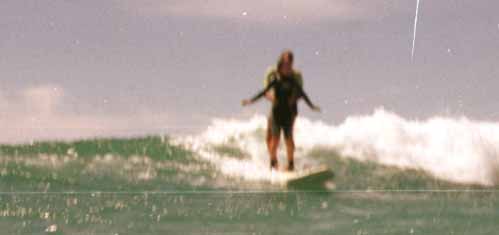 Mike Doyle teaching surfing student on a tandem surfboard.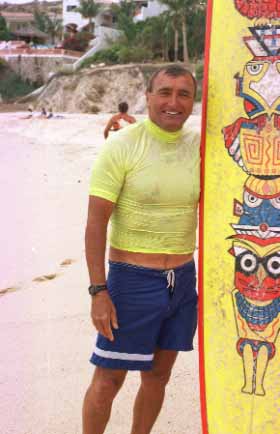 The Legendary Mike Doyle was one of the first (if not the first) to surf Hawaii's "Pipeline".
Mike is also a pioneer "Snowboarder" and artist of renown.
All Photographs, Writing and Other Content Copyright
© Tom C. Marshall and San Diego Beachlife Magazine®
Tom C. Marshall
PO. Box 70053
San Diego, CA 92167
Email Publisher@sdbeachlife.com
(619) 222-5489