The
Ocean Beach
Geriatric
Surf Club

Precision Marching Surfboard Drill Team
&
Gidget Patrol
in
The Ocean Beach 1999 Christmas Parade.

All Photographs Copyright © Tom C. Marshall and San Diego Beachlife Magazine®

To be in the club?

You Must Surf
You Must be over 30
You Can't be Trusted

Two of the Club Presidents discuss parade
plans to the distress of someone's daughter.

Parade preparations in Vesna and Clark's backyard.
(by the way... Vesna has the best backyard in all of Ocean Beach)

Deanna does her surf-rider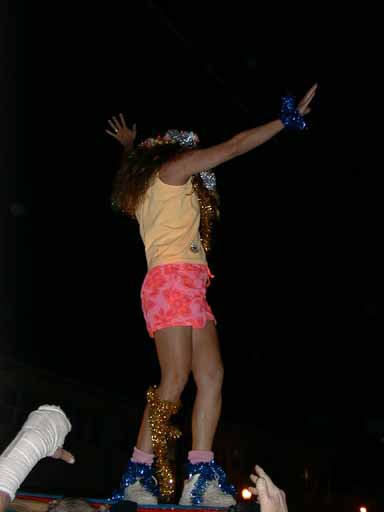 Aieda (her father loves opera) with another Surf-Rider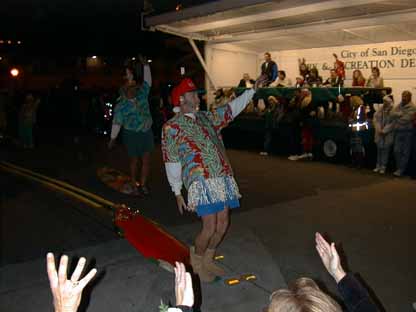 "Uncle Mikey" Hangs Ten in front of the Judges Reviewing Stand.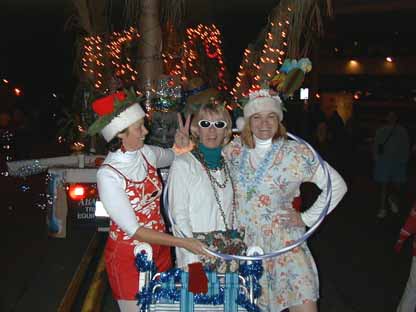 Three "Trophy Blondes", members of the "Gidget Patrol"
Await the announcement of the parade awards.

Club Members with the parade "People's Choice Award"
(We Always Win It)
All Photographs Copyright © Tom C. Marshall and San Diego Beachlife Magazine®
Tom C. Marshall
PO. Box 70053
San Diego, CA 92167
Email Publisher@sdbeachlife.com
(619) 222-5489