Sponsored By

Sponsored By

Jeff Warwick
Mammoth Mountain Snowboarding Page



Much More To Come: The Snowboard season for this year is just getting started. I've been in close contact with Jeff Warwick about the snow conditions and everyone is really excited about Mammoth for this year.. The advantage for myself as the staff photographer is (last year) I received the finest snowboarding instruction available from Jeff Warwick. I went from a raw beginner to carving a "Black Diamond" in my first year. My goal for this season is to take some really great shots in the back country of "Mammoth Mountain" snow country. Keep in touch, soon we will be updating with wild photos of Jeff, Micah and some crazy Brazilians in some of the best snowboarding areas anywhere in the world.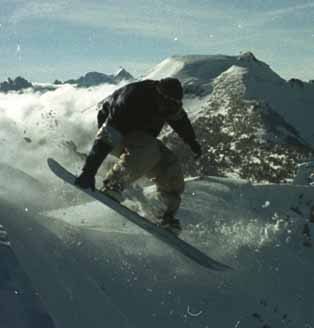 (Jeff Warwick in the Mammoth Back-Country:
Photo Courtesy of Bruno Granatowicz, Rio De Janeiro, Brazil)
Jeff Warwick will be available this Snow Season at Mammoth Mountain for private snowboarding lessons for Beginners, Intermediate and Advanced students and Back-Country Guide Service.
Jeff Warwick
Snowboard Instructor
Mammoth Mountain Ski School
P.O. Box 7242
Mammoth Lakes, CA 93546-7242
Telephone: Main Lodge 760-934-0685
Telephone: Residence 760-924-2417

Email: surfmammoth@yahoo.com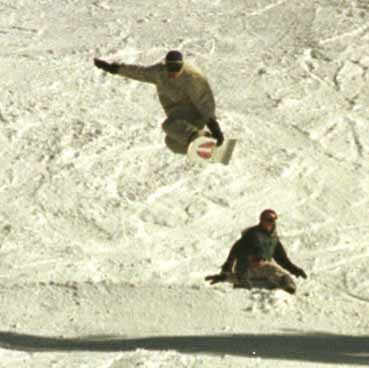 Jeff Warwick jumps at Mammoth Mountain "UnBound" Snowboard Park.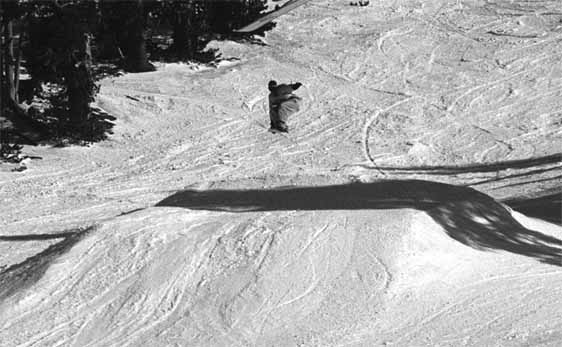 Jeff Warwick grabs the tail of his Snowboard during the next jump.

Click on Jeff's Picture for Larger Shots

While Jeff took the chair-lift to the top of the mountain, I looked behind me to get this shot of Yosemite.
All Photographs Copyright © Tom C. Marshall and San Diego Beachlife Magazine®
(except where noted)
Tom C. Marshall
PO. Box 70053
San Diego, CA 92167
Email Publisher@sdbeachlife.com
(619) 222-5489