Lee Marshall
"Lightnin' Lee" The Weasel"
All Photographs Copyright © Tom C. Marshall and San Diego Beachlife Magazine®
The Weasel at "Mammoth Mountain, California"
Lee, His Dad and the Mountains of Yosemite National Park.
The Weasel at "Dick's Last Resort" in San Diego
The Weasel is a "Total Babe Magnet"
The Weasel Hits Mexico!
What trip to Tijuana, Mexico would be complete without the requisite mechanical bull ride.
Lee checks out some "Carne Asada" Taco Meat.
So... If I can get the Weasel a job here then I can retire in style!
Lee during his "Job Interview" at the Tijuana Taco Stand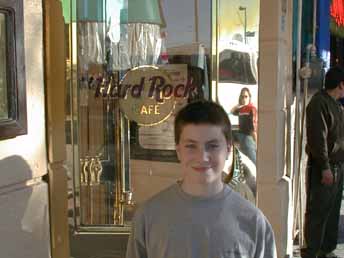 The Weasel at the Hard Rock Cafe - Tijuana, Mexico

The Weasel gets a (Henna) Tattoo just before boarding the jet for home. Henna Tattoos last just long enough to upset a mother. The design above is the Chinese Manderin symbol for Good Fortune.
All Photographs Copyright © Tom C. Marshall and San Diego Beachlife Magazine®
Tom C. Marshall
PO. Box 70053
San Diego, CA 92167
Email Publisher@sdbeachlife.com
(619) 222-5489