Pacific Beach
Block Party - 2000
---
All Photographs, Writings and Other Content Copyright
© Tom C. Marshall and San Diego Beachlife Magazine®

Eve Selis is one of the two surprises I discovered at the Pacific Beach Street Fair for 2000.
Each year Pacific Beach begins the "Street Fair" season for the San Diego area. I'll confess that I wasn't all that enthused about trying to cover the PB Street Fair this year. Don't get me wrong, it's always fun to go the Street Fairs, but the muse just wasn't with me. Not sure why. But I went anyway and discovering Eve Selis and her band was well worth the effort. This woman is AMAZING! Country and Western Rock music that grabs you by the shoulders and shakes your boots off. OK, I hear you. Not in to the "twang" and sad song about a drunk man's dog dying just after his wife runs off with his best friend. Well this ain't that! Eve is full of an energy that incites the fans that flock to hear her. Without question, her show was the best and the most appreciated by the fair goers. If you can go see Eve live and then buy her CD's. You can find out where she is playing by visiting her website at www.eveselis.com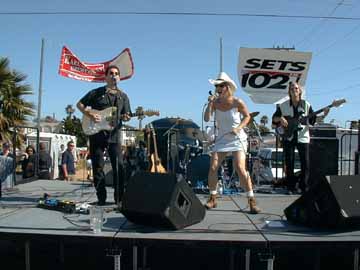 Eve really has put together a great band. This group is a must see!
Keep in mind, if you don't catch her live here in San Diego soon, you'll end up having to pay big bucks and wait for the once a year or so that she will be back home. San Diego Beachlife Magazine expects Eve Selis and band to go Big-Time real soon. Move over Dixie Chicks and Shania Twane - Eve's on the way.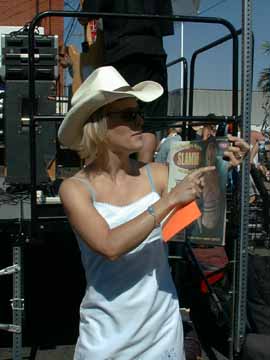 Eve shows me her photo on the cover of "SLAMM" Magazine!
This group of "Eve Selis Fans" rocked out while the dude
in the red shorts tried to impress them with his "Six-Pack"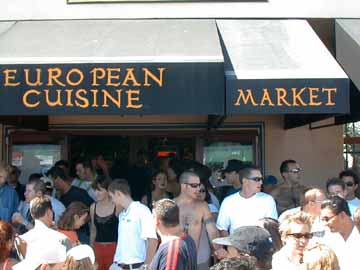 One of the great benefits of the "PB Block Party" is that local business
on Garnet Ave. have a chance to show off to thousands of patrons.
(above & below)
Above, Tony Skojec floats high above Garnet Ave. on his Bike.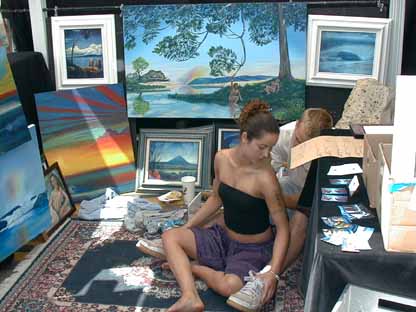 Artist, Todd Churchill Cooper of Ocean Beach was there showing his art and doing a little body painting. Todd can be found at
Todd Churchill Cooper
4812 -1/2 Santa Monica Ave.
San Diego, CA 92107
This young lady was there selling something and I'm sure it was worth while whatever
it was but I was so taken by her beauty that I didn't get beyond taking her photo.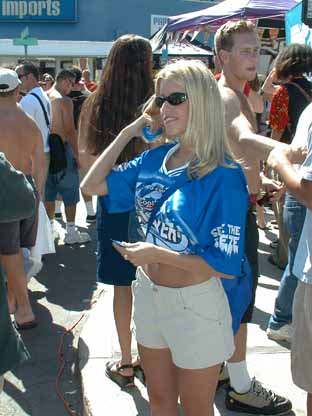 Many companies were introducing new products to the public with free samples.
This product representative was introducing fair goers to "Ice Breakers" mints.
This bird had some guy to carry him around and show him off to people.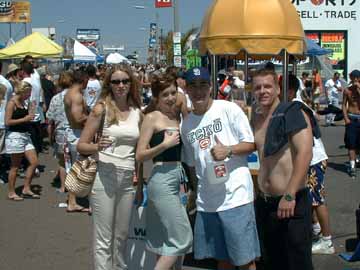 This group of people saw my camera and wanted their picture taken.
Ok, the two girls were "super way cute" so here's the photo.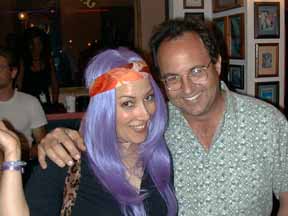 Bridget Joyce and Band played at Moose McGillicuddy's (took me by surprise, I missed this always great show by looking in the wrong place, my loss) and will be releasing a new (my second big surprise of the day) CD "Orange" early this summer. Bridget's new CD will undoubtedly continue the success that her first CD "Purple" still continues to enjoy.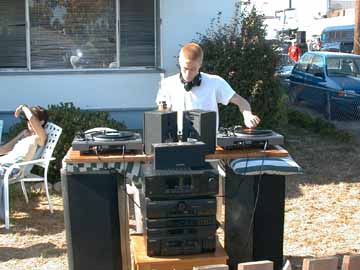 This guy was one block off the "Main Drag" in his front yard doing an "Itchy Scratchy D.J." thing. His friends enjoyed his beer and his artistry so they stuck around.
While walking back to the car I saw this young lady throwing a football. Let me tell you... She has an arm on her... I'm trying to become her agent so Vogue Magazine (oh did I say she stunningly beautiful) if you're looking for your next cover girl or if the Chargers are ready for someone who can really throw the football, then give me a call.
---
All Photographs, Writings and Other Content Copyright
© Tom C. Marshall and San Diego Beachlife Magazine®
(More photos and storyline to follow soon)
Tom C. Marshall
PO. Box 70053
San Diego, CA 92167
Email Publisher@sdbeachlife.com
(619) 222-5489